Hello,
I'm using Sunlite for many year (10+ years), and I'm always happy to see new features :-)
- I'm waiting for a good pixel matrix generator for so many years
- I'm waiting for an update for easy show software with no crash problem and a working copy/paste feature
- I'm waiting for a multiply modifier for switch
etc.
But I don't see big change in this Suite 3 beta: No pixel matrix editor, you remove easy show, but good news: you add a multiply modifier.
I'm very sad to see you remove Easy show, the new cycle editor is nearly the same as before, and not suitable at all for live show programming. To be honnest I choose Sunlite software 10 years ago because of this timeline editor. Here a list of what I'm using every days with easy show, but is not possible with cycle in SS3:
- Run a cycle in the show (it's not possible to run a cycle from another cycle)
- Use marker to stop the playing
- Preload a song before playing it (to avoid lag when playing)
- Start/Pause the playing from midi console (possible with easy show with a special switch "start" or "stop", then bind this switch to controler)
- Jump to a specific marker (via scene, then binding the scene to midi controler)
- Copy paste one or multiple blocs from the timeline
- Use timeline in fullscreen (there are not full screen button on cycle editor) (I have multiple (4) screens for programming)
- Global view of the full show in a distinct window with a zoom feature: it's important for long show (some time I have 1 hour show or more !)
- Dynamicaly modify dimmer/speed/sound volume for a specific switch to make fade in/fade out effect timecoded to music.
- Group timeline by feature (only name can be modify in SS3, it's not possible to do group of timeline)
- (And maybe some others things I don't remember for the moment)
In my opinion the cycle feature is really not suitable for live show programming. Cycle is a good tools, but only for small effect, not for a complete show. Yes easy show is not perfect, there are many bug (crash, copy/paste not working, etc.), but it's really better, 10 times better than the cycle editor. So I hope you will re-add Easy-Show and add better feature to it instead to remove it. Or make the cycle editor better, available in an external tools and add all missing features, but there are so many mistake, i'm not sure it's possible: cycles are great, but not suitable to replace easy show.
Here an example of what it will be impossible to reproduce with cycle editor: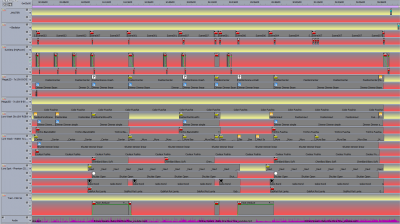 (cycle, dimmer editing, many timeline, etc)
A better idea should be to add more powerfull features to easy-show:
- A GUI like SS3 (black background)
- Debug copy/paste group of bloc (working only after launch ease-show, crash if done after some others modifications)
- Add timeline renaming
- Add show/hide group of light feature (because it's not easy for synchronisation when there are many timelines)
etc.