Hi,
I have another one…
I am preparing for a small theater play that will only be using basic generic lights (dimmers) and encountered strange behavior.
I am currently using May 29 2009 version, but I also checked the Sep 24 (beta) and it does the same.
Following is a simplified description to demonstrate the issue.
I set up a page for generic fixtures and in that page I created switch buttons as follows:
Switch No. 1 controls channels 1, 2, 3 & 4
Switch No. 2 controls channels 3, 4, 5 & 6
Switch No. 3 controls channels 5, 6, 7 & 8
All switches were set to HTP, their relevant channels set to 100% (full ON) and all other channels at "OFF".
See example of switch configuration:
Now here is the strange part. If I create a scene using switches that don't share the same channels, the scene is created properly.
But, if I create a scene using switches that have 'overlapping' channels,
the result scene will come out missing some of the channels, or heaving them at random levels.
This is a shot of the manual settings of the switches just before creating the new scene:
And here is the edit window of the scene, showing what was actually stored in the new scene: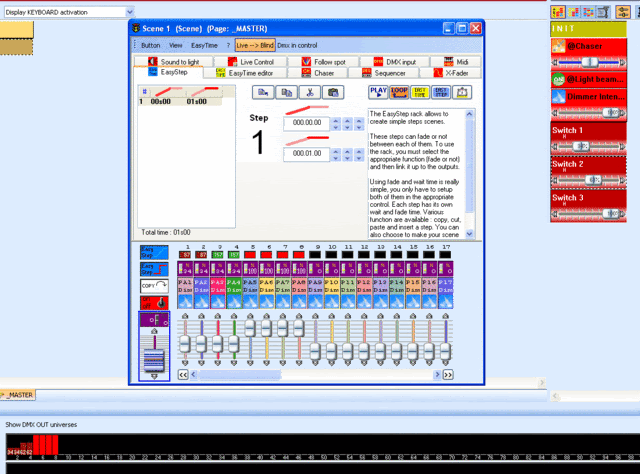 I tried the different options available at the scene creation window but they didn't change the result.
So what am I doing wrong? How can I create a scene that is made up of switches that control some overlapping channels?
Thank you for your help,
N.Webber